Our trip to Mukul Resort in Nicaragua
As a lot of you know, Kari and I just got back from a pretty rad trip to a resort in Nicaragua... and nearly everyone we've talked to about it asks, "how did you pick Nicaragua?"
Well, it kind of started with our friends' Mindy and Ryan's wedding. They had a destination wedding a couple years ago at the Banyan Tree Mayakoba resort in Mexico. Here, we had our own villa that came with it's own pool - devoid of other people's children and ... well devoid of everyone. This private home-like beach tropical experience ruined Kari. She actually said that she didn't want to go on another vacation that didn't come with a private pool.
Fast forward to 2017 - Kari asked our travel agent to find us a similar resort with its own villa and a pool. She gave us options in the Caribbean and another in Nicaragua. Since we've been to the Caribbean a few times and didn't know anyone that had traveled to Nicaragua so... we picked Nicaragua!
While in Nicaragua, we only spent about 6 hours outside of the resort, but the country was a lot like other third world, tropical areas I'd been to. It's not very developed, there are drastically different lifestyles, people largely have less than we do in America, the natural landscape is beautiful, and people seem to take a lot of pride in their country.
Nearly everyone Nicaraguan I talked to asked how we found out about Nicaragua and what the perception of their country was at home and amongst our friends. They all seemed very proud and eager for us to tell our friends about the country.
So anyway...
Thursday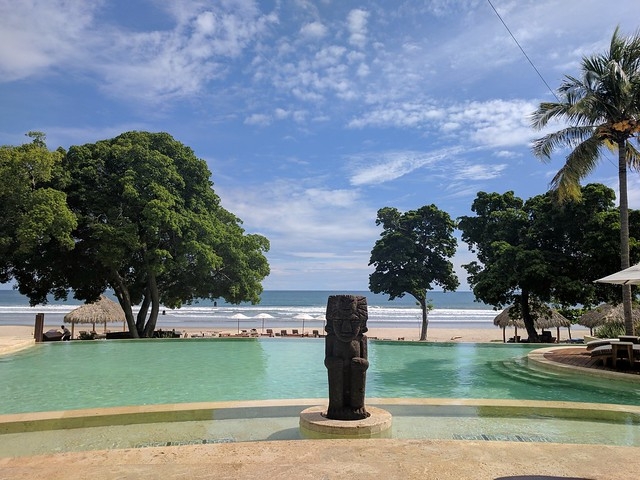 After some super easy flights, we were greeted at the airport by a man from the resort who put us in a fancy SUV with snacks, drinks, and WiFi. Our driver took us on a 2.5 hour journey to the remote resort while telling us about the country, giving us tips and pointing out things like sugar cane and plantain fields ... oh and an active, smoking volcano. The 2.5 hours really seemed to fly by with the plethora of things flying past the SUV. The roads were full of a mix of insane tuk tuks, motorcycles, buses, nice SUVs, cars that barely worked, bikes, scooters, and carriages being pulled by cows and/or horses. There were also plenty of dogs, chickens, pigs, horses, cows, and sheep walking in and around every street. The chaos seemed to work just fine though... I couldn't stop thinking about what my life would be like if I lived here.
So the driver drops us off at the front of the Mukul Resort and the manager walks up and says, "Welcome Mr and Mrs Brooks." He then leads us into the main palapa where we're greeted with
a beautiful view
of a pool and oceanfront.
We sit down
to soak in the view and are immediately handed
cocktails
made with Nicaraguan rum. The manager then tells us that they own 1,700 acres here and that everything we can see is ours to explore. We're then shown around the resort and to
our room
. We stayed in one of their Bohios, which is basically a single bedroom home
nestled
up on the hillside in the trees. And yes, it had a pool - a lil baby
plunge pool
, but still a pool that was pretty rad for soaking in before getting ready for dinner. We spent our first few hours grabbing
snacks at the beach
,
kicking it
in our pool, and then were invited to a
beach BBQ
for dinner. We had no idea what we were in for. In Nicaragua, BBQ must mean, "
grill every possible meat
," because after our salads, we were each handed
a plate
with grilled seasoned chicken, some kind of awesome sausage, white fish, BBQ pork ribs, seasoned steak, shrimp, lobster tail, and an octopus tentacle ... This was of course served with rice and grilled squashes and potatoes and carrots n stuff. Then, instead of asking us what we wanted for dessert, they just brought us
2 of all 4 desserts
they offered, lol. It was insane. We ate like kings. And then we were dead.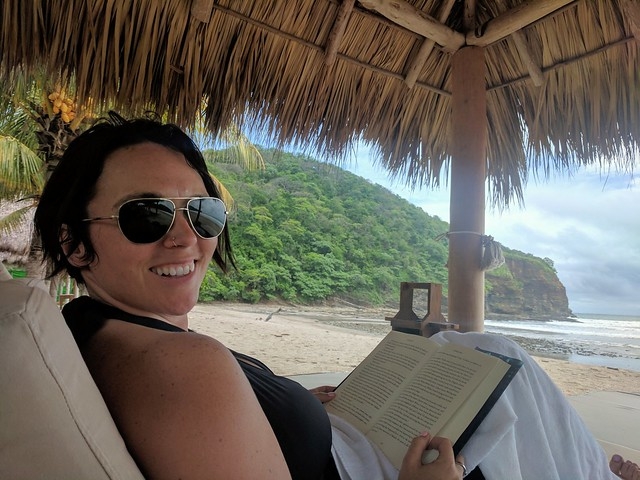 Friday
We slept way in and then had lunch at the other end of the beach at the resort's "beach club." After that, we just spent the rest of the day laying around the beach, swimming in various places and trying local foods, beers, rum, and cigars. It was a really nice, relaxing day.
Saturday
We had breakfast delivered to our veranda then spent more time playing in the ocean and pools.
That night we had a special dinner planned for us based on a chat we had with the concierge the day before. It was a 5 course meal prepared by the resort's insane french chef.
It started with this delicious crab ceviche amuse bouche (which technically made this a 6 course affair) and then moved into a smoked mackerel salad. The mackerel was caught that morning and immediately smoked with the oak barrels that Flor de Caña rum is aged in. The salads came out on plates with glass, smoke filled domes over them. The wait staff served us the plates and then simultaneously pulled the glass domes off as smoke rolled off across our table. The entire salad was smoked and was probably the best salad I've ever had. The fresh smoked mackerel was amazing. All of the flavors were amazing.
After the salad we were served scallops from a local bay with some saffron cauliflower puree, these crazy thinly sliced, crispy, beet dyed cauliflower flakes on top of baby corn crackers. It barely made sense, but it was ridiculous good.
Next came the Mahi Mahi filet with queqisque "scales" on top. The way this dude was altering foods to not look like what they are and be little pieces of art was simply insane... and he did it in a way that was both balanced and delicious.
After that came the short ribs. Cooked 18 hours and served on a bed of truffle risotto with soy and red wine sauce. It was very rich but awesome and of the perfect portion.
And finally, they brought out these big dark chocolate balls with some fancy square chocolate ribbon things on it, set them in front of us, then poured hot dark chocolate over the chocolate balls which partially melted the chocolate shells and revealed a ball of ice-cream inside.
We've been treated to a lot of fancy / creative meals, but this one was definitely one the best. Everything was amazingly high quality and incredibly creative, but it was also balanced and portioned perfectly - a detail that too many places seem to miss.
I will remember this meal for a very long time.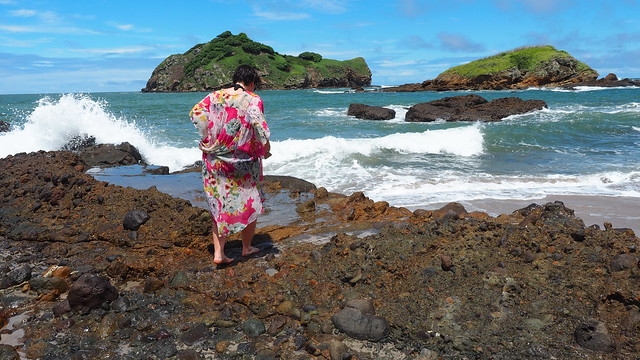 Sunday
We woke up and hiked up to the yoga platform to take a yoga class in the forest overlooking the ocean. This was my first yoga class, but will probably be one of the coolest for a long time. I was sore in some really weird places later that day.
After yoga, we watched a soccer match over brunch and got shuttled to another beach on the resort's property - Playa Guacalito. It was a beautiful beach overlooking some great lava formations and islands and ... aside from a lifeguard, we had the entire thing to ourselves. It was super fun.
After beaching we were invited to a Flor de Caña rum tasting... which made both of us (especially Kari) a bit nervous, but we were blown away. Flor de Caña is a super rad company that makes some serious, quality rum. Their 5 year stuff is a solid mixer, 7 year is great on ice, the 12 year drinks like a fine cognac, and the 18 year was a bit spicy. The company does everything from grow their own sugar cane and molasses to distilling and aging it in oak bourbon casks. I honestly couldn't believe that rum could be this clean or this good.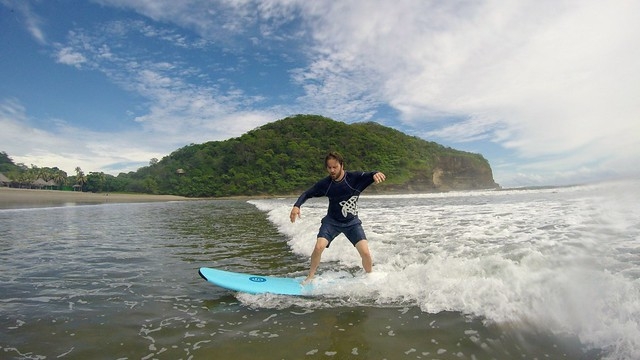 Monday
The day we learned to surf.
After sleeping for about 12 hours, we woke up, ate a big ol Nicaraguan breakfast and then walked down to the beach club for some surf lessons.
Kari was a bit nervous about her balance. I was a bit nervous about my lack of flexibility. Both meant that we weren't the best surfers in the universe, but we did catch some waves! Kari was up and riding waves on like her second try - definitely before I was. But we both rode plenty of em in. I really wish we could've gotten a shot of Kari surfing, but ... our instructor didn't have the go-pro before she'd had enough for the day.
In short, surfing is a lot of work and a lot of fun. The ocean is brutal. I'm super proud of Kari for trying and nailing it.
Feeling pretty successful, we spent the rest of the day snacking and laying around in cabanas. We finished the night by watching The Intouchables for "movie night" in the main palapa.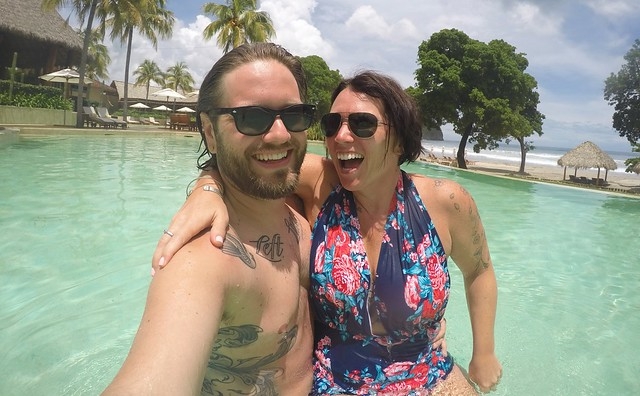 Tuesday
Our last full day at the resort was spent exploring the other end of our beach, playing in the water, laying around, watching wildlife, soaking in a nice sunset, and enjoying more good food. It was a great way to end a great vacation.
Wednesday
After breakfast, we checked out of the resort (and somehow managed to spend about half as much money as I predicted we'd spent), and began our journey back home.
The fairly long day of travel turned into a loooooong couple days of travel after a United mishap left us trapped in the Houston airport for 22 hours. After 13 delays, 8 gates, 4 planes, and a few hours sleeping on a chapel pew later, we got out.
Despite the rough flight home. I'm super glad that we visited Nicaragua and got to stay in such a beautiful resort. The service was over-the-top. The property was amazing. The people were awesome. The food was better than any I've ever had at a resort.
If you're looking for an upscale resort in a new area, I highly, highly recommend checking out Mukul.