Picking up an M-series in Germany
First of all, some things I noticed about Germans: no one is staring at phones. Everyone rides bikes - mostly cruisers with kickstands and barely locked up. They are big rule followers. They seem to require very little policing and are generally very respectful people. They love super cheesy t-shirts, especially if the F word is on them.
And now, for a long breakdown of our trip.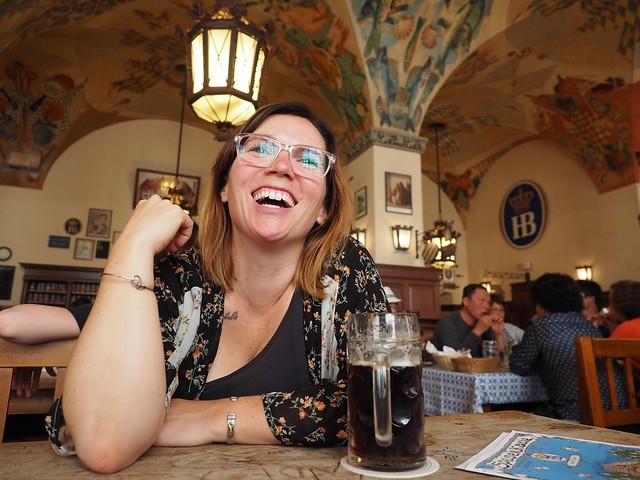 Day 1 - Munich
As we fly into Munich, I notice all the farmland, rolling hills, and small villages and am getting even more excited about having the opportunity to drive around this beautiful country.
We land, get taken to our hotel, take a quick nap, and then do some exploring and shopping around the Marienplatz area. It didn't take us long to find our first real german food and beer halls. The sausages and pretzels were awesome. The spätzle was amazing, and the potato salad was even more amazing ... also nothing like the German potato salad you've probably had in America.
The beer halls are also super interesting. Every one has a single brand of beer and you order by beer style. So you go to a Paulaner beer hall and your options are: Paulaner. They usually have a dark (dunkel), light (helles), wheat (weissbier), and sometimes an alt. It was a bit weird at first, but the lack of variety became really refreshing.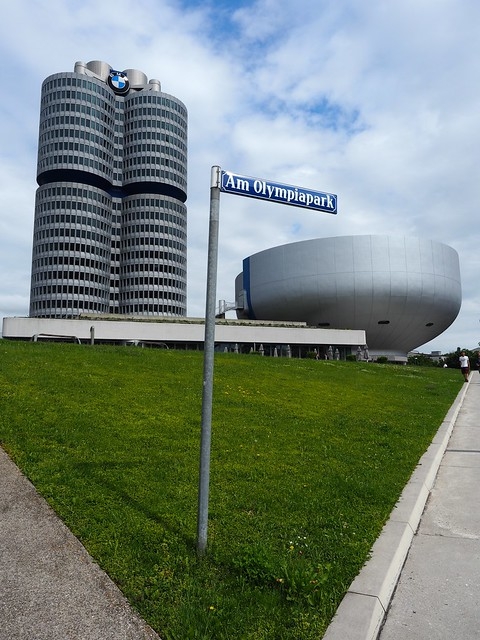 Day 2 - BMW HQ
After breakfast we venture out to visit the BMW headquarters by way of public transit - which is quite amazing in Germany. The train stations are like farmers markets and there are no turnstiles or seemingly any kind of policing of who boards the trains. You just pay for your ticket at an ATM-like kiosk and get on the train... no one looks at it, no one scans it, you just ... follow the rules like adults. It's super, super weird. Everything is also super clean and seems very well run. It was fantastic.
So, we walked into the BMW Welt, which is this amazing building that is basically a super fancy show room / hang-out spot that is full of people checking out cars, riding in cars, buying BMW paraphernalia, etc. We immediately went to this front desk thing to check in for the factory tour that we'd scheduled, but they had no record of us visiting, asked if I was picking up a car, and they sent me to the second floor...
The second floor turned out to be a place called The Premium Lounge, which is apparently a space just for people spending money on cars. It's filled with comfy seats, a buffet of foods, beer, etc. So we got checked in at the lounge and were taken on an amazing tour of the BMW factory where we got to watch robots and humans build 3-series, 4-series, and M4 coupes. Unfortunately, there were no photos allowed of this crazy process, but it was quite awesome to see.
So, after the tour, we went back to the premium lounge, signed a bunch of papers, were treated with lunch and a beer, and checked out the BMW museum. Afterwards, we went back to Marienplatz to explore some more.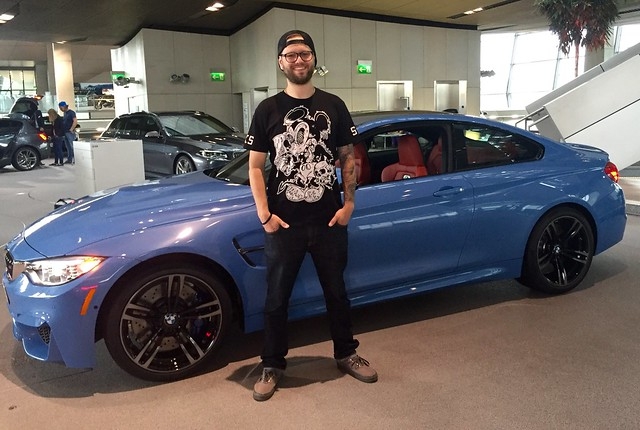 Day 3 - The delivery
We made our way back up to the BMW Welt to enjoy a breakfast buffet and then were greeted by a nice woman. She walked us down this flight of stairs, where right at the bottom was my brand new, smurf blue car, just spinning on this giant turntable. It was amazing. I walked around it a couple times, smiling from ear to ear, I'm sure.
This exact experience had been a goal of mine for over 10 years and I was finally making it happen... getting handed the keys to a brand new BMW M-series just outside the factory that it was made at in Germany.
The BMW lady showed us around the car, under the hood, all the features, and helped get everything set up for me. She even programmed the address of our next hotel into the navigation and told it to "avoid highways" to make the drive a little more fun and scenic for us.
After getting everything setup, we did a sort of victory lap around the inside of the welt, then out the back door and headed South, toward the alps.
After a giddy 2 hour drive in my car we checked into our hotel in a small town called Garmisch-Partenkirchen, walked around, did some more shopping (bought Lederhosen and a Dirndl dress), and then hung out at the hotel most of the evening. To our surprise, this hotel had a full on spa in the basement. Saunas, steam showers, cold showers, hot tubs, pools, etc. It was a great way to spend a rainy evening.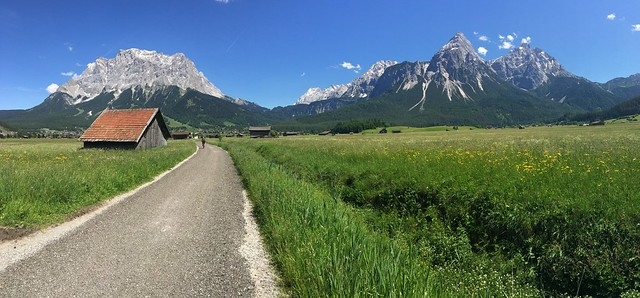 Day 4 - The Alps
We woke up to what was seemingly a totally different town. The fog and rain were all gone and we were greeted with a view of the alps right from our shower... so we promptly got ready and went on a beautiful drive toward Austria.
Our first stop was in the small town of Mittenwald Germany, where we rode a cable car up the side of the alps, hiked around the mountaintops, took some photos, and grabbed a great lunch while Kari enjoyed a local beer.
After that, we kept cruising through the winding roads of the alps, into Austria, and on to Zurich, Switzerland. We, of course stopped for some photo ops of the mountains, my car, some castles, etc. It was a great drive.
We finished the day off with some Swiss Fondue... Well, after navigating through some super confusing Zürich intersections - one of which was a 4-way that public transit tracks and pedestrians also intersected ... but there was absolutely zero traffic control. No lights. No signs. Just a free for all. It was hilarious. I sorta just closed my eyes, drove through, and got lucky.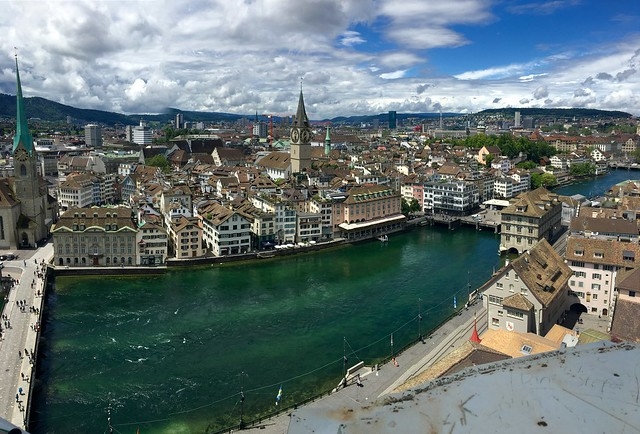 Day 5 - Zürich
We spent the day exploring and walking around the city of Zürich... Buying some swiss paraphernalia and appreciating the super pedestrian friendly city with its narrow winding streets and crazy water fountains.
At one point in the afternoon, Kari suggested we pop into a small pub for a beer. Little did we know, Switzerland was about to play their first soccer game in the 2016 Euros... so, we of course hung around and watched the game with the locals as they went bonkers while beating Albania. It was a ton of fun.
We finished the evening checking out a couple fancy cocktail places.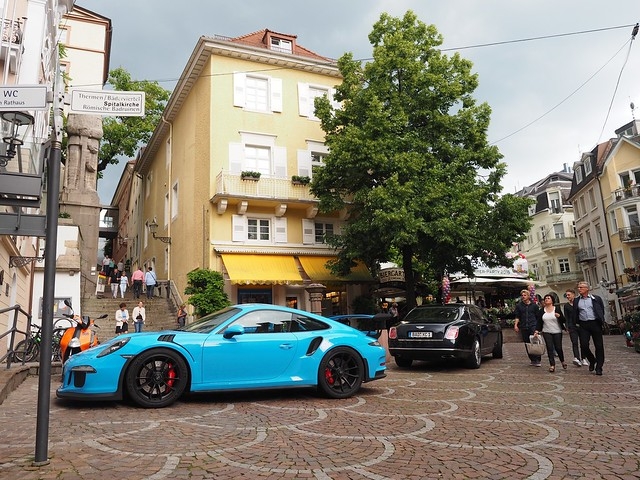 Day 6 - The Autobahn to Baden Baden
We woke up and busted out to Baden Baden, Germany, with full intentions of driving through the Black Forest... but we somehow messed this up and wound up just driving 100+ MPH on the autobahn the entire way. Since the car was still in break-in period, the max speed we were supposed to go was 106 MPH and keep the tach under 5500 RPM... So, we of course just set the cruise control at 106 to get a bit of the Autobahn experience.
Driving in Germany really is a beautiful thing. Despite the seemingly more dangerous winding roads and higher speeds, everything feels super safe. All of the drivers are super courteous and everyone seems to follow the rules. When there are speed limits, people obey them. When there are no speed limits, people stay out of the fast lane and yield appropriately. It's amazing. The autobahn is basically Germany's version of an Interstate, and when you're in a safe area to go fast, the speed limit goes away. Even with our cruise control set at 106 MPH, we were getting passed by folks doing 120 MPH... and again, none of it felt dangerous at all. Driving this car in America will never be like it was in Germany.
So, we got to Baden Baden, checked into our hotel, grabbed lunch for our hangry selves, and were greeted with another super rainy day... that we attempted to spend at this fancy spa but it was closed for remodel. So we tried to check out a fancy German casino, but didn't meet dress code. Instead, we just spent the day swimming at our hotel's indoor/outdoor pool and finished up at this fantastic Italian restaurant that we found in an Alley.
As coincidence would have it, as soon as we sat down for dinner, Germany was also playing in the Euros. So, again, we got to watch a game of the Euros with the locals in their home country. It was great.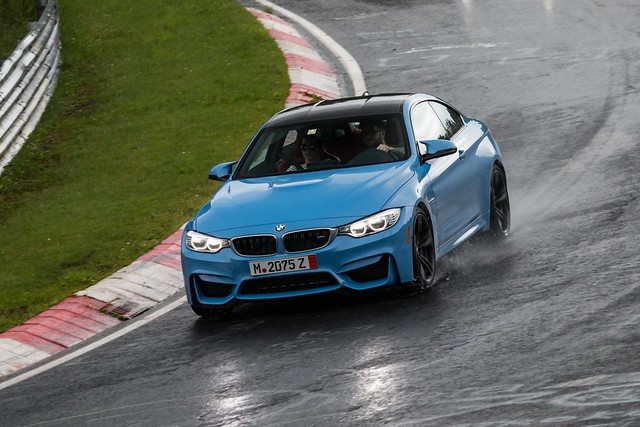 Day 7 - The Black Forest and the Nurburgring
Since we'd accidentally driven right around the Black Forest on the Autobahn, we busted out early and headed back south to cruise through at least some of the forest. The weather was a bit rainy and foggy, which meant the curves were a little slick, but the rain and fog really made the black forest feel like the black forest. At one point, though we came up on a random clearing in the fog for this crazy view looking out over some countryside villages. It was beautiful.
After we'd had enough of the black forest, we jumped back on the Autobahn for the next main event: Driving the Nurburgring.
Nürburg was a super, super weird town. It's obvious that it is only really a town when there are races going on. There are a dozen or so theme-park-ish bars and restaurants that are all just closed down. There's hardly anyone around. We had a hard time even figuring out how to buy laps on the track... So, we checked into the hotel and she pointed us to "The Devil's Diner" this weird race-themed diner on the side of the track. This is where you buy tickets to drive on the track.
I bought a few laps, jumped on the track, and holy shit!
I should also mention that this was my first time ever on a race track. In my brand new car. In the rain. With rear wheel drive... on one of the most dangerous tracks in the world. A track nicknamed, "The Green Hell."
So I had no idea how mountainous/hilly this track was. The elevation changes were insane! Kari and I's stomaches both dropped at least a couple times as I whipped up, down, and around this beautiful track. Kari cringed as I went through the Carousel, attacked corners, and let the back end slip a couple times.
Driving the Nurburgring is an experience I will never forget. It left a smile plastered on my face for a long, long time.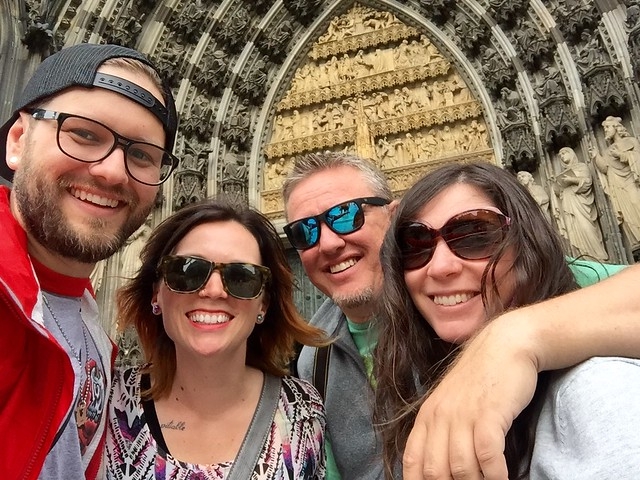 Day 8 - Cologne with Adam and Jenna
On Tuesday, we bust outta Nurburg, avoiding highways and cruising more winding roads on the way to meet our friends, Adam and Jenna, who happened to be in Germany at the same time as us.
We spent the day catching up, exploring the city with its insane cathedral, eating weird foods, and drinking kölsch... which is apparently from northwestern Germany and is taken very seriously there.
The bars in Cologne serve kölsch, and pretty much only kölsch. They serve it to you in this 6-8oz glass and mark a tally on your coaster. Once your glass is empty (or even close to empty), they set down another small glass of beer and add another tally to your coaster.
The only way to make this stop is to put your coaster on your glass, haha.
We enjoyed a lot of tiny glasses of kölsch. It was a fun time, but we got super kölsched out by the end of the day, haha.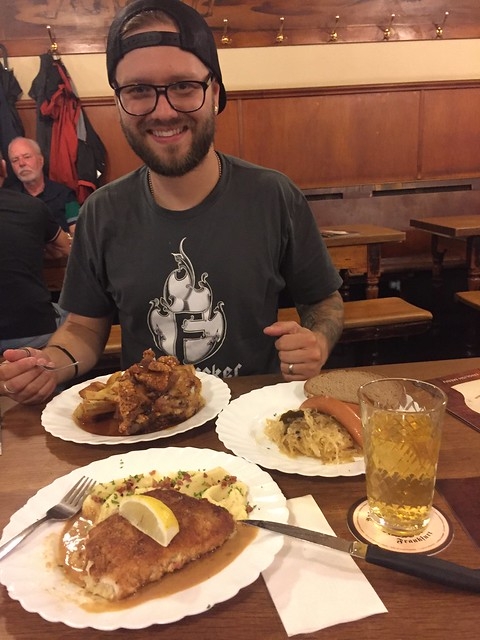 Day 9 - Dropping the car off in Frankfurt
Our last full day in Germany, we drove to Frankfurt to drop off the car. The only rules when you drop your car off for shipment are: it has to be empty, clean, and have both of the license plates on.
So, we arrive at the drop-off point and hit a nearby carwash, one of those track style carwashes that I sort of hated sending my new car through... but it was my only option. That car wash ate my front license plate, which was just stuck on with double sided tape since they didn't want to drill my front bumper.
Being the rule followers that they are, the shipment dudes questioned my front plate... and left it in the car. I really hope that crushed up thing is still in there when I pick it up as another great souvenir to hang in the garage.
After dropping the car off, we made our way to get our last traditional German meal. Frankfurters, schnitzels, kraut, pork knuckles, taters, and apple wine.
Overall
This entire experience was a huge bucket list thing for me. A definite trip of a lifetime. I could write a ton more about the awesome people, places, and the whole thing, but I'm sure I've already lost everyone who started reading this.
So, now I just gotta wait another 8 weeks for my damned car to get off that boat and through customs...
See you in August, Baby Smurf.