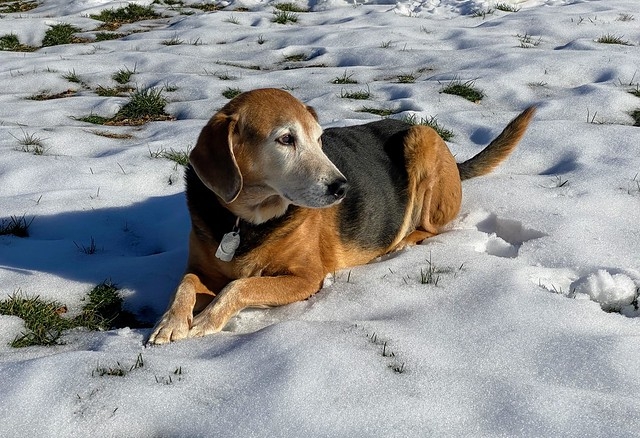 Today, we had to say goodbye to the sweetest, most awkward, and lovable dog that I've ever met.
Garth was a stray that was picked up in SE Iowa in 2010 and put on doggy death row at a kill shelter. A foster home in Cedar Rapids rescued him and we adopted him soon after.
We got the privilege of hanging out with this sweet boy for nearly 11 years.
Later in life, Garth started developing lots of tumors, which eventually found their way to his pancreas and caused him to over produce insulin and cut his blood sugar to half of what it's supposed to be. Insulinoma. We found out too late to be able to act on it in a meaningful way.
He started getting weaker and developed seizures that became more and more frequent. An episode this morning left him in a bad way... so we had to make the choice that you dread as a pet owner. We spent his last day doing everything he wanted. Hanging outside, giving him good food, hairbrushes, and all the lovin possible before he was peacefully euthanized in our home.
It was the worst day ever, but I think it's best to remember this good boy for how awkward and loving he was.
He was 50% Beagle, 25% Rottweiler (lol, wut), 12.5% Golden Retriever, and 12.5% Labrador Retriever.
He just wanted to be by people and get all the pets.
At dog parks, he would avoid the other dogs, but instead make rounds to their owners to get some pets.
He always wanted to be close, but would rarely look at you while too close.
He hated having his photo taken.
Instead of wagging his tail, he wiggled his whole body. When he got especially excited, he'd often squint his eyes to protect them from getting slapped by his tail.
He was completely uninterested in toys, or playing in general... but he sure liked to chase wildlife and slay bunnies on occasion.
He followed his nose literally everywhere.
He loved going for daily walks and car rides - especially in the topless Jeep.
He liked to howl with friends.
He liked to howl in his dreams.
He loved getting hairbrushes.
He liked to show off his teeth when you scratched his cheeks
He loved flopping over onto his back for belly rubs (until he got too fat).
He loved squeezing into small beds, getting into beds in weird places, and even inventing his own awkward beds.
He could hold his pee for like 2 days if asked.
He trained us to say "Sorry, Garth" every time we did something that would cause him concern.
He wanted nothing to do with any treat that was not made out of an animal (aside from pizza).
He hated thunder - despite his hit single about Thunder rolling.
He loved his doggy door - whether it was coming in and out, or just sticking his nose out for a whiff.
He loved to be a "tall dog" and get tall dog pets.
He loved the snow - whether it was tromping around, cramming his face into it, or taking giant bites of it while walking along.
He loved baskin in the sun.
He loved guarding the cul-de-sac.
He loved lookin out his window and surveying the land.
He cried with the most joy every time you came home, or asked him to go for a walk, a car ride, or just asked him, "who's here"
He'd often wait for Kari to return by the front door
He loved Yoga
He was a travelin man... Spending several weekends around Iowa and Illinois, Chicago, Minnesota, Wisconsin, Arizona, Colorado a couple times, etc.
He was spoiled by his mom - and grandparents.
He loved literally everyone that he met, but he especially loved his mom.
He just went along with whatever and loved it.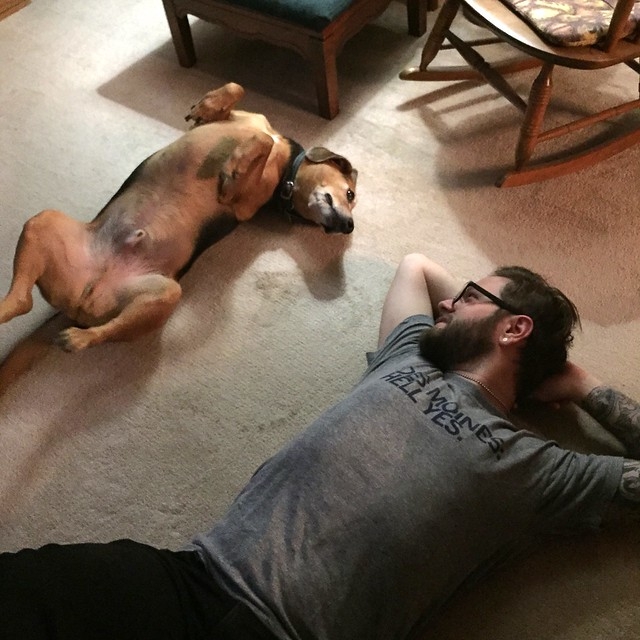 With covid and self-isolation, Garth's last year was spent almost entirely by our side. Filled with road trips, camping, walks, hikes, boat rides, cruises in the Jeep, and lots of lovin. Being able to spend so much time with this good boy was the silver lining of the pandemic.
We sure did love that awkward boy.
I don't really know what else to say, but I ended Garth's introduction blog with a cheesy Garth Brooks lyric... so, I'm gonna do the same with his eulogy blog...
And now, I'm glad I didn't know
The way it all would end
The way it all would go
Our lives are better left to chance
I could have missed the pain
But I'da had to miss the dance