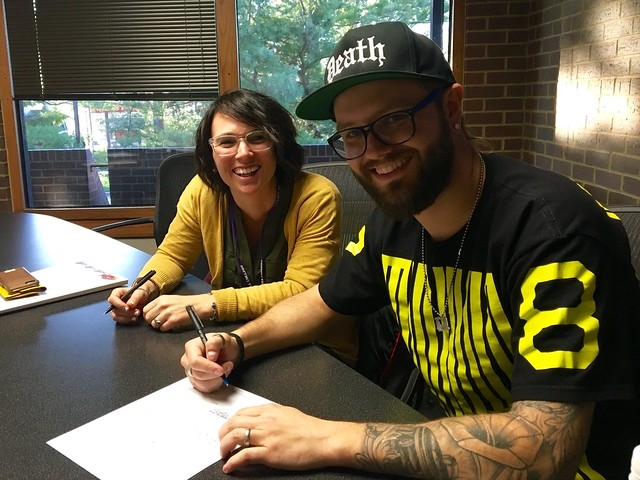 After 6+ years of wanting to move out of the suburban house that I bought when I was 24 years old, Kari and I finally found a new home to move into.
We must've looked at/walked through 100 potential houses or lots (no exaggeration) over the years, but our picky asses could never find one we liked.
Our top 3 priorities were pretty simple: a ranch home, within 5 miles of downtown, and garage space for 3+ cars and a workshop.
Our other top priorities were: an open floor plan for entertaining, walk out basement, back yard privacy, an office near main living areas, 3 bedrooms, full master bath, full guest bath, a powder room, and to be near bike trails.
Our "nice-to-haves" were: something unique and awesome with garage/shed space in the back yard for hanging out, yard space and windows on the south side for gardens, hops, and herbs, a back yard/porch on the north east side for shady afternoons, and a front yard on south west side to melt the driveway in the winter.
I straight up had a list in evernote with all of those things on it.
...
We were basically the kind of clients that no realtor wants to work with. A giant pain in the ass. The only option for us was seemingly to build, but finding a decent, open lot near the city was pretty much impossible. So, the next best thing was to find a home in need of renovation with good bones that we could make our own.
At the end of October we found that home and last week, we finally closed on it. A house built in 1981 (the same age as Kari and I!) that literally met all of our crazy top priorities and nice-to-haves.
The only sacrifices were: instead of the perfect 3-4 garage I was hankerin for, I got a 2.5 car garage... with a 3rd stall in the back yard and a work shop in the basement. The house also isn't at all unique like we'd wanted (super plain jane) but we're hoping to fix that. And the only other down side is that it's on top of a pretty substantial hill... so even though we're only 3 miles from downtown, biking home is gonna be pretty tough ... but ... I'll have the sexiest legs (or a Honda Ruckus).
The place is super well built, the perfect size, and has a fantastic layout. Everything we need on our day-to-day is on the main floor, while guest rooms, guest bath, and a rec room are in the basement.
On top of that, the garage even came with a dedicated, built in heater, water spigot, and drain, which is super rad (and not even allowed anymore). It was also basically one of the least expensive homes in a neighborhood full of unique, baller places which means we shouldn't out-price the hood with renovations. And it even sits on a quiet cul-de-sac at the end of a dead-end street. We also found out that in the winter, when the leaves are down, there's a great view of the downtown skyline from our living room.
There really is so much potential for this to be such a great place.
As for its current state, the house still looks like 1981 with carpet everywhere (including the dining room and bathrooms), wallpaper, bad trim, bad cabinets, bad hardware, bad lighting, and a couple interesting DIY renovations. So we've definitely got our work cut out for us with this remodel, but I think it's going to be super awesome, super functional, and super "us" when we're all done.
If any of y'all wanna help me knock out some walls, rip out a kitchen, tear down a 25 sqft fireplace or rebuild anything, let me know! We've got a lot of work to do before hosting a big ass house party next spring!